Locally Crafted Lapidary
Machines, Tools and Equipment
High-Quality Australian Manufactured Lapidary
Machines
Check our
Latest Products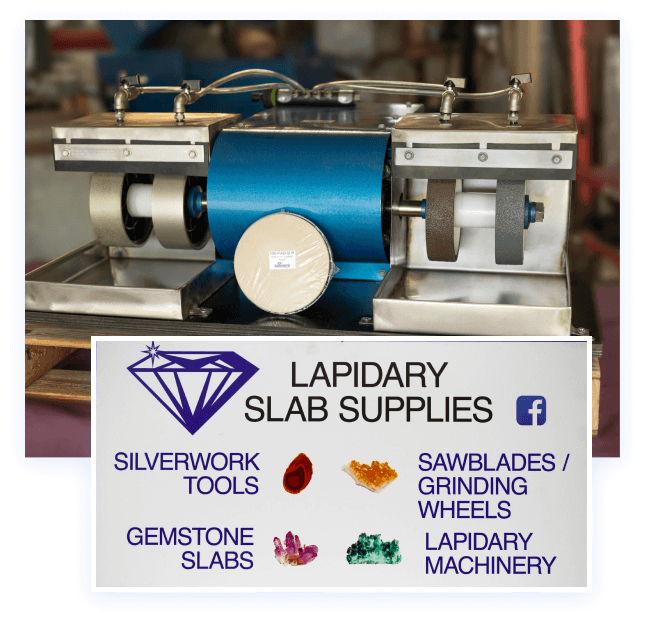 ABOUT US
Lapidary Slab Supplies
Lapidary Slab Supplies is a well-established and unique family-owned business located in Mackay (Pleystowe), Central North Queensland, and offers 25 years of lapidary experience.
Offering all types of custom-built lapidary machinery (including Flat Laps, Trim Saws, Grinding machines, tumblers, and large Power-fed Saws)
Lapidary Slab Supplies Your Trusted Source for the Best
Lapidary Machinery Equipment and Supplies in Mackay

Welcome to Lapidary Slab Supplies, your trusted source for the best lapidary machinery, equipment, supplies, rocks, and slabs with over 25 years of experience in the lapidary industry. As a trusted lapidary supplier in Mackay, we specialise in providing high-quality machines, equipment, tools, and supplies to lapidary enthusiasts, hobbyists, and professionals. Our extensive inventory includes different kinds of machines, grinding wheels, polishing pads, cutting tools, and other lapidary tools & accessories carefully selected to meet the diverse needs of our customers. Whether you're a seasoned lapidary artist or just starting, our knowledgeable team provides expert guidance and exceptional customer service to help you find the perfect lapidary products for your projects.
At Lapidary Slab Supplies, we pride ourselves on our extensive selection of lapidary machinery and equipment, including flat lap lapidary machines, Trim Saws, lapidary grinding & polishing machine, tumblers, and large Power-fed Saws. Our custom-built lapidary machinery is designed to provide reliable performance and durability for all your lapidary needs.
In addition to our machinery, we also offer various lapidary tools & supplies, including rough lapidary slabs, cabochons, faceting materials, polishing compounds, and other essential supplies. All our supplies are carefully sourced from reputable manufacturers to ensure the highest quality.
As a family-owned business, we prioritise excellent customer service and strive to build long-term customer relationships. Our team of lapidary experts is always available to provide personalised advice and assistance, helping you make informed decisions on the right machinery,  lapidary tools, and supplies for your projects.
Trust Lapidary Slab Supplies as your reliable source for top-quality lapidary machinery, equipment, and supplies. Enhance your lapidary projects to new levels of excellence with our commitment to quality, service, and expertise in the lapidary industry. Explore our wide selection of products, and let us be your go-to destination for all your machinery & equipment, supplies, and needs.
High-Quality Australian-Made Lapidary Machinery &
Equipment Mackay
At Lapidary Slab Supplies, we proudly offer top-notch Australian-made lapidary machinery, and equipment in Mackay for enthusiasts and professionals alike. Our commitment to quality craftsmanship and reliability ensures that our products are built to withstand the rigours of lapidary work, allowing you to create stunning gemstone masterpieces confidently.
Our range of lapidary machinery and equipment includes cabbing machines, flat laps, trim saws, grinding machines, tumblers, and large power-fed saws, all designed with precision and efficiency in mind. With features such as adjustable speed controls, water cooling systems, and durable construction, our lapidary tools, machinery, and equipment are built to provide you with the performance and reliability you need for your projects.
When you choose our Australian-made lapidary machinery and equipment, you can trust in the quality and durability of our products. Unlock your creativity, enhance your lapidary craftsmanship, and bring your gemstone visions to life with our high-quality lapidary equipment in Mackay. Choose Lapidary Slab Supplies for the best lapidary tools, and supplies Mackay offers.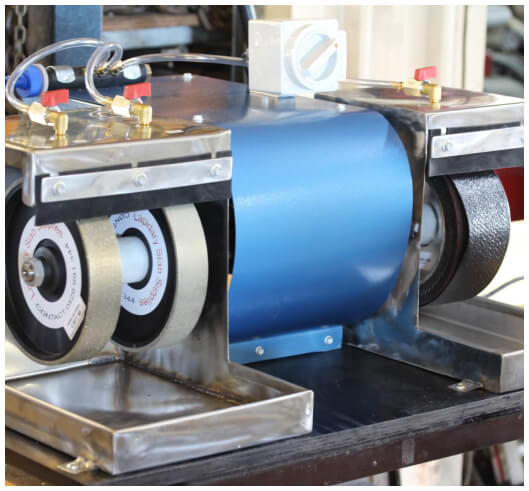 Lapidary Slabs Supplies Products & Services
WHY CHOOSE US
Why Lapidary Slabs Supplies Mackay
High-Quality Australian Manufactured Lapidary Machines
Rating on Facebook 5.0 (15 Reviews)
With our comprehensive inventory and commitment to quality, we strive to be your go-to lapidary supplier, providing you with the lapidary tools and supplies you need to unlock your creativity and achieve stunning results. Discover the convenience and reliability of our online store, or visit our physical location to experience the exceptional service that sets us apart as a trusted Lapidary supplier.
REVIEWS
Honest Feedback and Reviews
CATEGORIES
Product Categories